The latest study published by Future Market Insights (FMI) on the vulcanization accelerators market incorporates the global industry analysis for 2014 – 2018 and market opportunity assessment for the forecast period of 2019 – 2029. The market study divulges decisive insights and offers exhaustive market analysis for the historical as well as forecast period. As per the market assessment in the report, the global vulcanization accelerators market is estimated to witness substantial growth due to growing demand from the tire industry.
The global vulcanization accelerators market was evaluated at ~US$ 1.4 Bn in 2018 and is anticipated to grow with ~4% CAGR during the forecast period i.e., 2019 – 2029.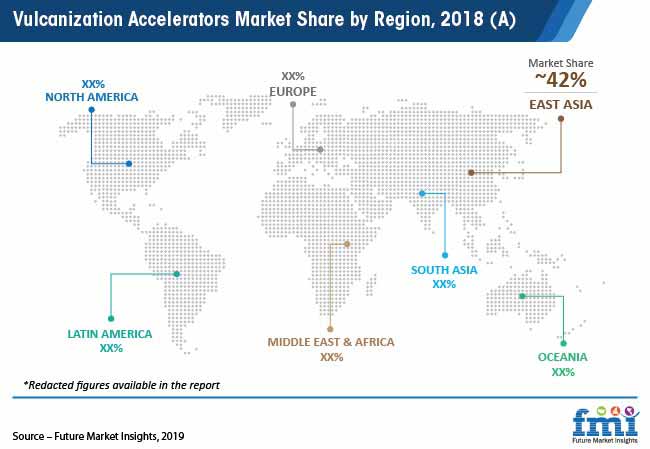 Tire is an irreplaceable automotive component, and its demand has been on the rise over the years. As tires of heavy vehicles need to be replaced more frequently, the industry is responsible for the maximum consumption of vulcanization accelerators. Thus, growing tire production and replacement activities are estimated to fuel the growth of the vulcanization accelerators market, as reported by FMI.
Apart from tires, rubber is also used in other automotive parts such as wiper blades, engine mounts, seals, hoses, and belts. Growing automotive production will elevate the manufacturing of automotive rubber parts and components. Thus, increasing the consumption vulcanization accelerators.
For more insights into the market, request a sample of this report@       https://www.futuremarketinsights.com/reports/sample/rep-gb-9956
Rubber is used extensively in industrial products such as rubber belts, rubber buckets, rubber pads, rubber lining, rubber rollers, and rubber mats, among various other products. Apart from these, rubber finds key application in the manufacturing of medical products such as condoms, surgical gloves, stoppers, tubes, cushioning or supporting materials, breathing bags, implants, prosthetics and catheters, etc. Thus, growing rubber consumption in medical and industrial sectors is estimated to surge the demand for vulcanization accelerators.
East Asia to Represent Significant Opportunities for Manufacturers
Japan and China are few of the leading tire manufacturing countries. China is assessed to be a prominent tire producer. Presence of companies such as Yokohama Rubber Company and Bridgestone Corporation, makes Japan a substantial tire manufacturing country. In addition, China's auto industry has witnessed significant growth in the recent years, leading to subsequent increase in the tire production. However, fluctuating raw material prices due to trade wars and oversupply of materials are affecting local manufacturers.
Besides, imposition of stringent regulations on tire exports from European countries and the U.S is expected to create further problems for tire manufacturers. However, East Asia is estimated to be a prominent market for vulcanization accelerators, due to increasing sales of passenger and commercial vehicles and rising demand for replacement tires. Increasing population, improved standards of living, and increasing electric vehicle production will upsurge the demand for tires in East Asia, which will positively influence the growth of the vulcanization accelerators market. Further, increased emphasis on high quality medical and industrial rubber products is expected to propel the demand for vulcanization accelerators in the region.
For Information On The Research Approach Used In The Report, Ask Analyst @ https://www.futuremarketinsights.com/ask-question/rep-gb-9956
Thiazoles and Sulfanamides to Remain Prominent Product Choices
The global vulcanization accelerators market has been categorized on the basis of product and application, along with regions.
Based on product, primary accelerators – thiazoles and sulfonamides, are projected to remain prominent product choices in the upcoming years, and are expected to hold a significant share in the global vulcanization accelerators market throughout the forecast period.
Although adoption in automotive industry continues to account for relatively high sales, growing application in industrial sector is likely to result in increased market share. Growing tire production and replacement activities as well as automotive industry growth are estimated to augment the vulcanization accelerators market growth.
Vulcanization Accelerators Market: Manufacturer Insights
According to the FMI analysis, the global vulcanization accelerators market is moderately consolidated with global and regional players playing key roles. The global vulcanization accelerators market report shades light on few of the key industry players in the global market. Some of the examples of key players in the market are Lanxess AG, Arkema, Eastman Chemical Company, Sumitomo Chemical Co., Ltd., NOCIL Limited, and Kumho Petrochemical, among others.
Explore FMI's Extensive Coverage on the Chemicals & Materials Domain
Plastic Corrugated Sheets Market-2021 Analysis and Review: Plastic Corrugated Sheets Market by Material Type – Polyethylene (PE), and Polypropylene (PP) for 2021 – 2031
Security Holograms Market-2021 Analysis and Review: Security Holograms Market by Product Type – 2D/3D, Dot Matrix, Flip Flop, and Electron-beam for 2021 – 2031
MOPP Packaging Films Market-2021 Analysis and Review: MOPP Packaging Films Market by Thickness – Below 30 microns, 30 to 60 microns and Above 60 microns for 2021 – 2031