Future Market Insights delivers vital insights on the metallized paper market, in its published report titled, Metallized Paper Market: Global Industry Analysis 2014-2018 and Opportunity Assessment 2019-2029′. In terms of revenue, the global metallized paper market is projected to expand at a CAGR of ~4% during the period of assessment, owing to numerous factors of which FMI offers thorough insights and forecasts. The global metallized paper market is expected to expand 1.5x in terms of market volume by the end of 2029.
Firm Progression for Premium Brewing & Beverage Industry
Metallized paper offers elegant and protective properties to the packaging products. It is widely used in various applications such as, food, beverages, personal care, home care, chemicals, and banking. The extensive application of metallized paper is in labelling. Packaging and labelling for premium liquor & perfume are significantly growing in demand across the globe. The growth of premium spirit sector is expected to grow at steady pace, and anticipated to expand one-fourth to reach ~US$ 2.1 Bn by 2022.
For more insights into the market, request a sample of this report@        https://www.futuremarketinsights.com/reports/sample/rep-gb-8016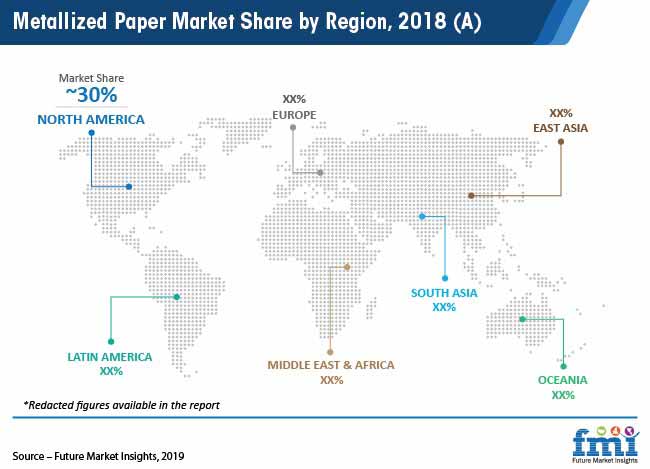 Metallized paper could be an alternative to plastic-based packaging especially in labelling which is essential for branding of any product. Several stringent rules set by the regulatory bodies to slow down the usage of plastic in packaging will continue to fuel the growth of the metallized paper market. This move has also pushed the manufactures of packaging materials to increase their units' capacity for the production of metallized paper at all the major regions of the world.
Metallized paper is increasing in demand, due to its usage as a gift wrapping paper especially in developed countries of Europe and North America. The growth of metallized paper might be stunted to some extent, due to issues in its recyclability. Metallized paper is strenuous to recycle as it has multiple layer papers that are coated with two or more materials – representing a potential threat for the manufacturers.
For Information On The Research Approach Used In The Report, Ask Analyst @ https://www.futuremarketinsights.com/ask-question/rep-gb-8016
Opportunities Abound in Asia Pacific
Geographically, Asia holds nearly two-fifth of the world's metallized paper market and is expected to uphold the market growth, especially in East Asia. China and India are the major markets for metallized paper, and are expected to gain y-o-y growth in upcoming years. The demand for labelling followed by wraps/overwraps are expected to grow at a higher rate in the South Asia, thereby fuelling the market growth. However, adoption of metallized paper in food and beverages industry is anticipated to grow at a sluggish pace with lack of innovation in the sector.
Metallized paper market in South Asian countries such as Indonesia and Malaysia are expected to grow at a higher rate in comparison with the other regions. Spain is anticipated to witness a higher growth in the metallized paper market, while Germany is anticipated to face an adverse growth due to a misbalance of metallized paper trade in the country.
Oceania and MEA regions will together constitute one-tenth of the global market of metallized paper. Oceania is a developed market for metallized paper, and the growth is anticipated to remain steady in the upcoming years. East Africa has been witnessing persistent growth of more than 6% in its GDP from past 3 years consecutively, similarly the growth of metallized paper market in the region is expected to grow by ~6% of CAGR during the period of 2019-2029.
Metallized paper market in North America is expected to show sluggish growth over the period of assessment, while the Latin American market is likely to witness consistent growth in upcoming years. The demand for food & personal care is expected to grow at its maximum in the year of 2024-2025, followed by labels and wraps. Northern Africa is expected to show the maximum CAGR among all the countries of MEA regions.
Strategic Move to Enhance the Production Efficiency
Leading manufacturers of metallized paper products are focusing more on research & development to win in the innovation game of developing speciality papers. A number of products offered by the key players are trademarked, registered, and are easily available at the global market. Companies have increased up to 60% of its production capacity, especially Verso Corporation, Avery Dennison, Fort Dearborn, and UPM Raflatac. Further, Nissha co. Ltd. has expanded its business operations based on industries, solutions, and product list, which helped the company to build diversified portfolio to increase overall revenue and market presence. Sysco Industries Limited is equipped with latest and technically advanced machinery to meet the efficiency in production of metallized paper, while Ulfex Ltd. has huge manufacturing capacity built up at strategic locations around the world.
Explore FMI's Extensive Coverage on the Packaging Domain
2021 Analysis and Review: Laminated Tubes Market by Product Type – Plastic Barrier Laminates (PBL) and Aluminum Barrier Laminates (ABL) for 2021 – 2031
2021 Analysis and Review: Glassine Paper Market by Material Type —Bleached and Unbleached for 2021-2031
Industrial Chemical Packaging Market–
Industrial Chemical Packaging Market by Intermediate bulk containers (IBCs) (RIBCs, FIBCs), Flexitanks, Drums (Metal, Plastic, Pails & Jerry Cans, Bags & Sacks) & Region – Forecast to 2021 – 2031