Increasing consumption of water treatment polymers in various industries is anticipated to propel growth of the water treatment polymers market. According to a new study by Future Market Insights (FMI), the market is likely to reach a value of US$ 3.30 Bn by the end of 2031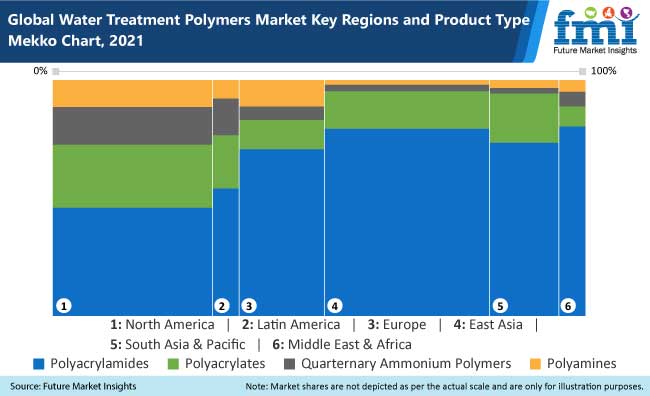 Rising demand for continuous water supply from mining & metals, food & beverages, oil & gas, semiconductor and pharmaceutical industries along with growing demand for uninterrupted supply of potable water are the key factors driving the global water treatment polymers market.
Increasing consumption of water treatment polymers municipal, and Industrial segments will remain a chief growth driver. Municipal water treatment and industrial water treatment together account for more than three fourth of the market.
Request a report sample to obtain authentic analysis and comprehensive market insights at  @ https://www.futuremarketinsights.com/reports/sample/rep-gb-8831
Key Takeaways of water treatment polymers Market Study
Driven by application across diverse sectors, the water treatment polymers market will surge at 6.9% CAGR between 2021 and 2031
Government initiatives towards ensuring safe water has enabled the U.S. account for dominant 86.5% of North America market in 2021
The demand in the U.K. will remain steady, exhibiting 3.6% y-o-y growth in 2021
Increasing investment in waste water treatment to drive growth in Germany and France
Government initiatives towards curbing air, water, and land pollution to drive growth in Japan and South Korea
Who is Winning?
The global water treatment polymers market can be considered as fairly fragmented. A large number of players account for a small share of the total water treatment polymers market. In order to survive in the market, manufacturers are focusing on long-term contracts with end users for maximizing profits and ensuring continuous revenue flow.
Key market participants including Suez Water Technologies and Solutions, Solenis, Ecolab Inc., Kemira Oyj, Thermax Limited, Chemigate ltd., Alken-Murray Corporation, Aries Chemical Inc., Chemco Products Inc., CHEM.ENGI s.r.o., SNF Group, Accepta Water Treatment products Co., Beackart Environmental Inc., Pentair, Dow Chemical Company, and ShanDong XinTai Water Treatment Technology Co. Ltd. are focusing on increasing their share in global market by entering into strategic acquisitions with local and regional players.
Want to Know More?
Future Market Insights has published a market research report on the Water Treatment Polymers market that contains global, regional, and 20+ countries' industry analysis for 2016–2020 and opportunity assessment for 2021–2031. The report provides insightful analysis of the Water Treatment Polymers market through four different segments- product type, application, end use and region. The Water Treatment Polymer market report further provides demand trends of different types across industry verticals, a comprehensive list of service providers in the market along with a detailed overview of the parent market.
Water Treatment Polymers Market by category
Product Type
Polyacrylamides
Polyacrylates
Quaternary Ammonium Polymers
Polyamines
Application
Preliminary Treatment
Water Treatment
Sludge Treatment
End-Use
Residential Buildings
Commercial Buildings
Municipality
Industrial

Chemical & Petrochemicals
Oil & Gas
Mining & Metals
Food & Beverage
Pharmaceuticals
Semiconductors
Thermoelectric Power Plants
Others
Region
North America
Latin America
Europe
East Asia
South Asia & Pacific
Middle East & Africa
Contact Sales for Further Assistance in Purchasing this Report @ https://www.futuremarketinsights.com/checkout/8831