Future Market Insights provides key insights in to the global vitamin gummies market. On the basis of value, the worldwide vitamin gummies market is projected to grow at a healthy CAGR of 5.1 % in the forecast period 2019-2029, owing to a range of factors which FMI goes into in detail.
Nutraceutical Industry and Digitization Trends Support Growth
Vitamin gummies are set to become a lucrative segment in the nutraceutical industry in the years to come. Most traction will come from working class consumers who seek to balance health aspects such as folic acid, metabolic health, and glycemic index for the human body, in a bid to tackle issues such as bone strength, immunity, and nutrient deficiencies.
The pharmaceutical industry is booming in the emerging economies of India and China with companies seeking to bolster their product portfolios, through new nutraceutical products. With the rise in ecommerce, vitamin gummies manufacturers potentially have a higher rate of profitability from this distribution channels as compared to brick and mortar outlets.
Ecommerce also allows manufacturers to provide services to complement their finished products, along with greater customer convenience through card payments, and home delivery services, which is boosting the popularity of online shopping for vitamin gummies.
Key Market Segments
The global vitamin gummies market can be largely segregated on the basis of product type (single vitamin gummy, multivitamin gummy, and probiotic vitamin gummy), customer orientation (children, adult, men, and women), Ingredient source (animal based and plant based), packaging type (bottles & jars, stand up pouches, and others), and sales channels (direct sales, modern trade, convenience stores, departmental stores, specialty stores, pharmacies, online retailers, and others).
Multivitamin gummies are projected to continue their dominance with a market share of more than 63 %. However, probiotic vitamin gummies are expected to the fastest growing segment through the forecast period with a CAGR surpassing 6 %.
Vitamin gummies for adults will account for a larger market share of more than 64%, while vitamin gummies for children are projected to rise at a higher CAGR surpassing 6 %.
Animal based vitamin gummies continue to hold dominance in the industry accounting for more than three quarters of the products. However, plant based gummies are anticipated to gain rapid traction with a CAGR surpassing 6 %.
Direct sales and online retailers are anticipated to grow at a faster clip surpassing a CAGR of 7 %. However, modern trade channels are anticipated to remain the dominant avenue of sales through the end of 2029.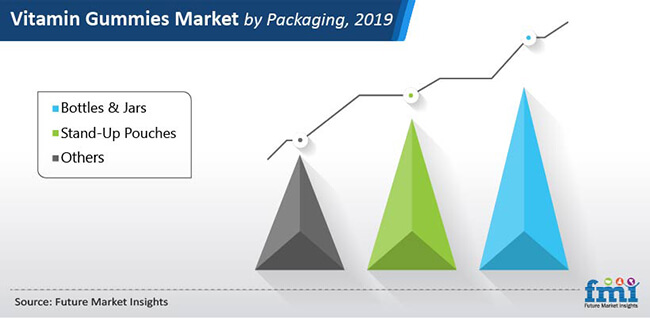 "Conventional vitamins and dietary supplements have been in the market for a long time. However, gummy vitamins have gained traction rapidly among adults and young children as well in recent years. This can be attributed to the fact that gummy vitamins provide not only provide high nutritional values but also enable easier and safer consumption," says the FMI analyst.   
Competitive Landscape
Major players in the industry Pharmavite, BAYER AG, Wellnext Health, Smarty Pants Vitamins, Life Science Nutritionals and Church & Dwight Co. Inc., among others. Vitamin gummies are primarily consumed in developed regions such as North America. This region is expected to continue its dominance accounting for nearly 29 % of the overall vitamin gummies market.
The APEJ region, and MEA regions on the other hand are displaying the faster growth with CAGRs of 7.5 and 6.9 % respectively. This attributed to increased incidences of vitamin deficiencies, and movements to solve national nutritional deficits.
For Information On The Research Approach Used In The Report, Ask Analyst @ https://www.futuremarketinsights.com/ask-question/rep-gb-11022
Get Valuable Insights into Vitamin Gummies Market
Future Market Insights, in its latest offering, presents a detailed analysis of the global vitamin gummies market, covering historical data and forecast figures for the period between 2019 and 2029. The study provides compelling insights into the growth witnessed in the market. In terms of product type, the market is divided single vitamin gummies, multivitamin gummies, and probiotic vitamin gummies. On the basis of customer orientation, the market is split between children, adults, men, and women. Based on source, the market can be animal based and plant based. In terms of packaging, bottles and jars, stand up pouches, and others cover the key segments. In terms of sales channel, the market is segregated into direct sales, modern trade, convenience stores, departmental stores, specialty stores, pharmacies, online retailers, and others. Regionally, the global market can be segmented into North America, Latin America, Europe, APEJ, Japan, CIS & Russia, and the Middle East and Africa.
About Food Market Division at FMI
Expert analysis, actionable insights, and strategic recommendations – the food & beverage team at Future Market Insights helps clients from across the globe with their unique business intelligence needs. With a repertoire of over 1,000 reports and 1 million+ data points, the team has analysed the food & beverage industry lucidly in 50+ countries for over a decade. The team provides end-to-end research and consulting services; reach out to explore how we can help.