The vegan pasta market is on a pace to grow ~9% annually through 2029, propelled in bulk by the global rise in vegan and plant-based eating with astounding stats. Affluent millennial in particular has been the central driver of the worldwide shift away from consuming animal-based products – giving a boost to the demand for vegan pasta in the fast growing global F&B industry.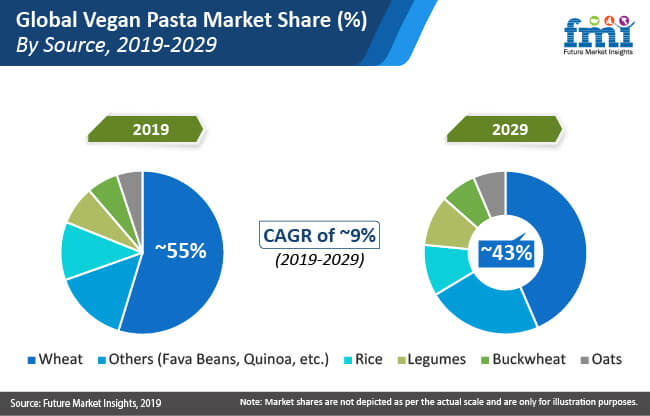 In 2019, worldwide sales of vegan pasta, contributed by both conventional and organic variants, are estimated to reach a value of ~US$ 136 Mn. Demand for conventional vegan pasta continues to ride on wider availability, and its relatively low cost has made it the product of choice among consumers.
Request Sample Report: https://www.futuremarketinsights.com/reports/sample/rep-gb-10641
Key Takeaways from the Vegan Pasta Market Study
The steady demand for conventional vegan pasta is likely to suffer with upsurge in the popularity of organic food products.
Organic vegan pasta will fare much better in line with increased emphasis on good health and growing incidences of food adulteration.
Wheat has long remained the preferred source or primary ingredient for traditional pasta, and continues to capture substantial share in the new vegan pasta space.
Certain limitations or adverse effects of wheat including gluten intolerance are likely to compelled manufacturers to explore other sources to offer gluten-free options.
FMI reports that demand for legumes and fava beans as a source of vegan pasta will increase with striking CAGR of ~12% and ~14% respectively through 2029.
As compared to developing regions, the sales of vegan pasta are envisaged to be higher in the countries of North America and Europe.
"As the growth of vegan culture and vegetarianism is expected to be quite strong going forward, vegan pasta will go mainstream with manufacturers centering on extended portfolio and branding their products with nutritional and environmental benefits," says the FMI analyst.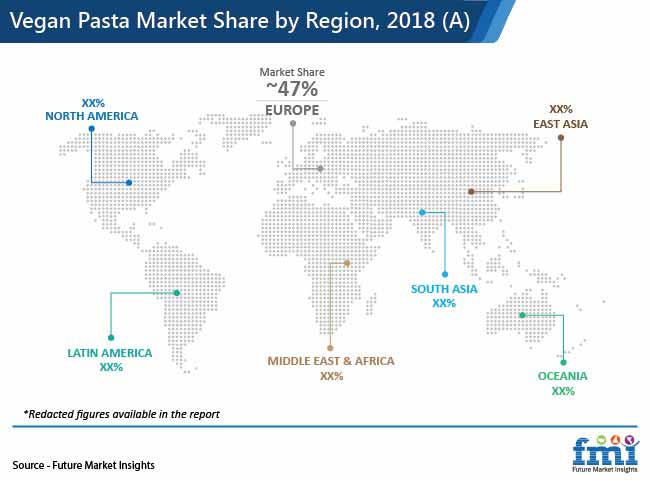 Product Innovation Focused on Healthier and Sustainable Diets
The vegan pasta market is still at its infancy, with plenty of room for improvement. A variety of vegan pasta is likely to hit the shelves in the near future, as manufacturer prioritize 'organic' and 'gluten-free' aspects to ensure higher product quality and nutritional benefits.
Traditional pasta companies as well as many startups are set to capitalize on the steadily expanding market.
Barilla stays ahead in the game with the launch of one-ingredient legume pasta, made with just chickpeas and red lentils, in September 2018.
Veganism as a concept is practically unknown in remote areas and certain cities in developing countries, signifying a relatively low growth prospects of vegan pasta market in regions such as South Asia and Middle East & Africa. The scenario may change in the next ten years on the account of macro factors including internet penetration, which has been fueling the unification of media and food culture.
Find More Valuable Insights on Vegan Pasta Market
Future Market Insights, in its new offering, brings to fore an unbiased analysis of the global vegan pasta market, presenting historical demand data (2014-2018) and forecast statistics for the period, 2019-2029. The study divulges compelling insights on the vegan pasta market on the basis of category (fresh and dried), nature (organic and conventional), source (wheat, rice, legumes, buckwheat, oats, and others), product (penne, spaghetti, elbows, fettuccine & linguine, and filled pasta), packaging (boxes, trays, packets, and pouches), and distribution channel (direct and indirect) across seven major regions.
Ask An Analyst: https://www.futuremarketinsights.com/ask-the-analyst/rep-gb-10641
Key Segment
Category
Nature
Source
Wheat
Rice
Legumes
Buckwheat
Oats
Others (Fava Beans, Quinoa, etc.)
Product
Penne
Spaghetti
Elbows
Fettuccine & Linguine
Filled Pasta
Others (Angel Hair, Farfalle, etc.)
Packaging
Boxes
Trays
Packets & Pouches
Distribution Channel
Direct (B2B)
Indirect (B2C)

Hypermarkets/ Supermarkets
Convenience Stores
Discount Stores
Food and Drink Specialty Stores
Independent Small Groceries

E-Commerce (Online Retail)
Region
North America
Latin America
Europe
East Asia
South Asia
Oceania
Middle East and Africa