Driven by extensive utilization for material testing applications in automotive, construction, and paper and plastic industries, universal testing machine (UTM) market continues to observe a steady growth rate. Towards the end of forecast period (2019 – 2029), global universal testing machine market revenues will exceed US$ 590 Mn, as projected by a new Future Market Insights (FMI) report.
Capable of testing various mechanical properties such as tension, compression, shear, bending, hardness, fatigue, and others, universal testing machines are also widely utilized by glass, metal, polymer, rubber & ceramic, and wood product manufacturers.
Key Takeaways – Universal Testing Machine Market Study
Based on market value share, four column universal testing machines segment to be dominant, despite a relatively high price point. On the other hand, single column universal testing machines segment is anticipated to hold a higher market volume share, owing to relatively lower cost and higher application in paper & plastic, polymer, textile, and electronics & electrical industries.
UTMs are significantly used in the automotive industry, as these are used to determine mechanical test data such as material rigidity, design stiffness, components, fatigue and material forming, and joining technology. Moreover, testing for engine & drive train, chassis, body, interior design, and electronic component design is performed by UTMs in this industry.
Global manufacturers of universal testing machine are majorly focusing on the development of new universal testing machines with wide measuring range, owing to increasing demand for diverse material testing that require specific UTMs. Furthermore, customer-centric approach by maximizing services is the primary focus of regional/local manufacturers.
For Information On The Research Approach Used In The Report, Ask Analyst @ https://www.futuremarketinsights.com/ask-question/rep-gb-8804
Several end-use industries are preferring multi-purpose universal testing machines over other testing machines that can measure only single mechanical property. Therefore, manufactures have shifted their focus on application-specific product development.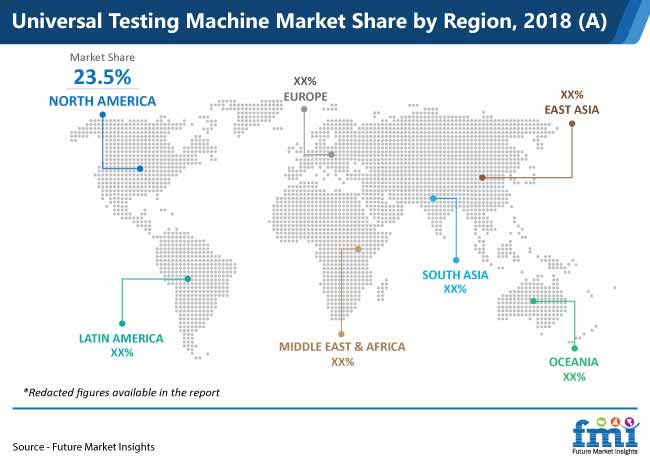 Who Is Winning?
The global universal testing machine market is moderately fragmented owing to continuous demand for testing mechanical properties for wide range of materials, and presence of regional and global players. Key manufacturers such as Instron (Illinois Tool Works), AMETEK, Shimadzu Corporation, Keysight Technologies, Zwick/Roell, and MTS Systems Corporation account for about 30% of the overall market share. North America and Europe are anticipated to account for approximately half of the total market share, owing to significant demand for automotive, aerospace, and textile material testing.
Request a report sample to gain comprehensive market insights @ https://www.futuremarketinsights.com/reports/sample/rep-gb-8804  
Product Development to Grab Larger Market Share
Broadening applications in various industries such as automotive, construction, textiles, aerospace, paper & plastic, electronics, polymer and others, are shaping market growth positively. Therefore, market players offering universal testing machines are continuously focusing on developing new products to sustain their positions in the highly competitive market.
Know More About the Report
The research report analyzes total sales of universal testing machines on the basis of volume (Units) and value (US$ Mn). The report includes a competition analysis section that includes market structure analysis, competition development, tier structure analysis, and other important information about global and regional players in the market. Opportunities in the market are projected on the basis of factors such as growth of industries such as textile, automotive, aerospace & defense, electrical & electronics, paper & plastic.
About Testing Equipment Division at Future Market Insights
The Testing Equipment division of FMI is a specialized department catering to unique requirements in the industry. Exclusive coverage of the testing equipment market includes valuable information on regular, compliance, destructive, and non-destructive testing services and associated equipment. The team also executes several complex projects pertaining to the area of manufacturing and process industries, research and academia, testing and certification institutions, government agencies dealing into scientific and environmental research, and defense organizations. Our research studies are trusted and widely referred by stakeholders for gaining insights and developing cutting edge strategies.