The global military communications market size is slated to reach US$ 39 Bn in 2022, finds Future Market Insights (FMI) in its study. With a favorable demand outlook, sales are slated to increase at a 9.7% CAGR, pushing the overall market size to US$ 68 Bn in 2028.
Demand in Command & Control to Persist; Land Force to Register Maximum Use
Growing demand for multi-intelligence ground systems, and large-scale, high-performance data and signal processing is anticipated to drive applications of military communications in Command & Control, followed by in Intelligence, Surveillance, and Reconnaissance (ISR). In terms of end use, the adoption of military communications solutions by Land Force will remain the maximum, compared to Air Force and Naval Force. Military communications will continue to play a pivotal role in warfare, with numerous technological advancements and potential applications.
Request a Sample of this Report @ https://www.futuremarketinsights.com/reports/sample/rep-gb-627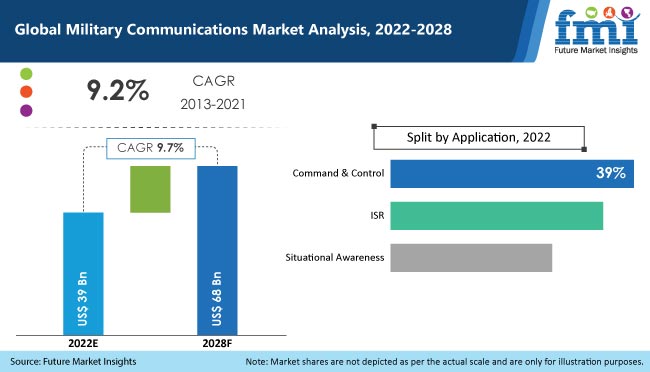 2.5X Growth Predicted for Satellite Communication Systems, Strongly Backed by Rapidly Improving Satellite Communication Infrastructure
For more than four decades, satellite systems continue to be on the leading edge of military communications. However, it is most likely that a range of cutting-edge terrestrial communication technologies such as smart phone will outweigh the capabilities of satellite communication technology in upcoming years. Researchers and technology experts are currently exploring various ways of introducing the satellite coverage technology to terrestrial communication systems used commercially.
Fixed satellite service and mobile satellite service providers can create abundant opportunities for the development of advanced military communication equipment. Furthermore, collaborations involving satellite communication service providers can potentially create a heap of new revenue generation channels for advanced and connected military communication solution providers.
The military is rapidly going 'wireless', specifically for sensor-driven security, environmental control, tactical applications, and yard management. Military wireless communication systems are often designed to operate in harsh environments, where the equipment is exposed to stringent environmental factors.
Ask An Analyst @ https://www.futuremarketinsights.com/ask-the-analyst/rep-gb-627
Furthermore, these systems also provide high-level security to protect sensitive data critical for national security and tactical operations. Swift development of commercial wireless communication technology has surged the interest of the military community in leveraging commercial technologies for addressing incessant communication needs.
Competition Landscape
Leading players operating in the global military communications market are focusing on research and development to incorporate connective technology such as artificial intelligence (AI) and the internet of things (IoT) to diversify their product portfolios. In addition to this, players are investing in mergers, acquisitions and collaborations to improve their distribution networks and global presence. For instance:
In July 2020, BAE Systems completed the acquisition of the Collins Aerospace Military Global Positioning Systems (GPS) business from Raytheon Technologies Corporation. Through this acquisition, the company aims to incorporate years of experience, innovative technology and a wide range of products offered by Raytheon.