Micro-electromechanical systems offer significant benefits such as time-efficient, effective power consumption, and reduced weight as compared to traditional macro systems for mechanical and electrical functions. These benefits make MEMS-based devices more attractive for communication and connectivity applications. Radiofrequency (RF) MEMS technology is specifically designed for electronics in wireless communication applications such as radars, steerable antennae, and global positioning satellite systems (GPS). MEMS technology is used to improve the performance of communication circuits and reduce power consumption costs. Micro-electromechanical system technology is also used for military applications in wireless communication satellite systems to gather information, missile guidance, and security monitoring.
With a large automotive and consumer electronics industry, APEJ is set to lead the global micro-electromechanical system market, which, on a global level, is projected to witness a CAGR of 9.8 % during the forecast period (2019-2029).
For Information On The Research Approach Used In The Report, Ask Analyst @ https://www.futuremarketinsights.com/ask-question/rep-gb-11006
Key Takeaways of Micro-electromechanical System Market Study
Application of micro-electromechanical systems in consumer electronics is expected to gain traction, owing to increasing demand for MEMS-based microphones, sensors, and oscillators in smart devices such as wearables, smartphones, laptops, and others.
Adoption of MEMS sensors is projected to increase at a striking rate during the forecast period, due to growing usage of gyroscopes, accelerometers, pressure sensors, humidity sensors, temperature sensors, and proximity sensors for applications in medical devices, home automation devices, autonomous vehicles, and others.
Asia Pacific Excluding Japan is anticipated to dominate the global micro-electromechanical system market due to rising demand from major industries such as automotive, consumer electronics, and industrial verticals in developing economies such as China, India, and other South-East Asian countries.
"MEMS sensors are entering the next stage of technological development, such as infrared and hyperspectral sensing, advanced motion sensing, etc., and are transforming human-machine interfaces, which would offer lucrative growth opportunities for the global MEMS market."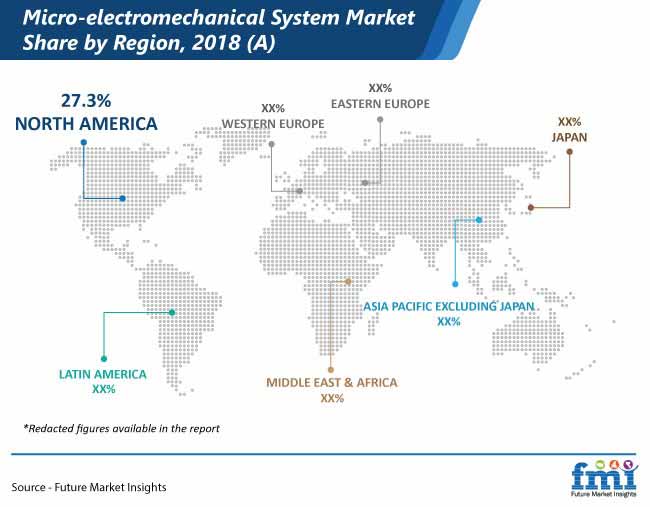 Increasing Application in Automobile Sector to Boost Growth of MEMS Market
MEMS are used in various applications in the automobile sector, such as navigation assistance, telematics, airbag systems, anti-theft systems, electronic stability control of vehicles, and other vehicle dynamic applications. Moreover, MEMS-based lead frames packaging solutions provide superior thermal conductivity to ensure that appropriate heat dissipation properties required by specific applications such as vehicle security systems and rollover detection. Moreover, these micro-electromechanical systems are also used for passenger safety purposes, tire pressure detection, rollover, and skidding detection.
Request a report sample to gain comprehensive market insights @ https://www.futuremarketinsights.com/reports/sample/rep-gb-11006
For instance, in May 2018, STMicroelectronics, a leading provider of MEMS motion sensors for customer products, added a new high-accuracy and high-stability MEMS motion sensor (IIS3DHHC). This IIS3DHHC MEMS sensor is a 3-axis accelerometer to secure accuracy over time and temperature, with 10-year product longevity for advanced industrial sensing.
More Valuable Insights on Micro-Electromechanical System Market
FMI's report on the micro-electromechanical system market is segmented into major sections, such as MEMS-based device (MEMS sensors [accelerometers, gyroscopes, humidity, pressure, proximity, and temperature sensors], MEMS audio devices [MEMS microphones and MEMS speakers], MEMS switches, MEMS actuators, and MEMS oscillators), and application (consumer electronics, automotive, aerospace & defense, healthcare, telecommunications, and industrial), and region, to help readers understand and evaluate lucrative opportunities in the MEMS market.
About Technology Division at Future Market Insights
The technology team at Future Market Insights offers expert analysis, time efficient research, and strategic recommendations with an objective to provide authentic insights and accurate results to help clients worldwide. With a repertoire of over 100+ reports and 1 million+ data points, the team has been analyzing the industry lucidly in 50+ countries for over a decade. The team provides a brief analysis on key trends including competitive landscape, profit margin, and research development efforts.