The global augmented reality and virtual reality (AR and VR) market was valued at more than US$ 5,000 Mn in 2016 and is expected to reach a market valuation close to US$ 120 Bn by 2025 end. In terms of value, the global AR and VR market is expected to expand at a CAGR of 42.2% over the forecast period. The global AR and VR market is expected to represent incremental dollar opportunity close to US$ 115 Bn between 2017 and 2025. Among the various device segments, revenue contribution from the head mounted display segment is anticipated to expand at the highest CAGR of 44% during the forecast period. Currently, North America accounts for a relatively high revenue share in the global AR and VR market; however, the MEA AR and VR market is anticipated to register the highest CAGR of 55.2% among all the other regions during the forecast period. In terms of revenue, the North America AR and VR market is projected to be the most attractive regional market in the global AR and VR market during the forecast period.
Ask For Report Sample @ http://www.futuremarketinsights.com/reports/sample/rep-gb-3913
High investments by big technology companies and increasing demand for AR and VR technology in gaming are factors boosting the global AR and VR market
Adoption of advanced technology in the gaming sector has been rising significantly due to factors such as increasing young population, increasing spending by consumers on entertainment, high penetration of smartphones, and improving network connectivity in developing countries. Games based on augmented reality such as Pokemon Go and Ingress have been witnessing increasing popularity among consumers as these games offer a unique gaming experience, thereby leading to higher user engagement. Thus a growing demand for AR and VR technology in gaming is likely to fuel the growth of the global AR and VR market.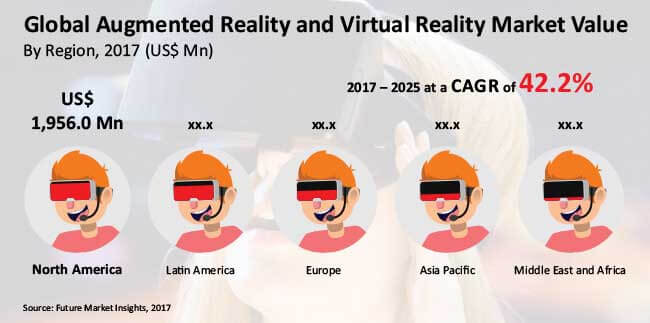 Some of the major technology companies such as Google Inc., Microsoft Corporation, Samsung Electronics Co. Ltd., and Apple Inc. are investing significantly in the development of new AR & VR products as a result of increasingly high demand from various industries and sectors including gaming and healthcare. Some of these companies are also funding several start-ups and providing necessary infrastructure as well to promote this technology among consumers. Therefore, with increasing investments by tech companies, the global market for augmented reality and virtual reality is expected to witness significant growth over the next five years.
Smartphones not only facilitate gaming but also create innumerable opportunities for augmented reality due to their technological features. It is difficult to create graphical overlays that could interact with the real world in a dimensionally accurate manner by using computer vision. However, smartphones overcome this technology hurdle as these are embedded with elements such as cameras and MEMS sensors, including accelerometers and GPS, which make them suitable for augmented reality platforms. This factor is also anticipated to drive revenue growth of the global AR and VR market during the projected period.
Ask For More Information @ http://www.futuremarketinsights.com/askus/rep-gb-3913
Google acquires VR gaming company Owlchemy Labs
Global technology giant Google recently acquired Austin based game studio Owlchemy Labs. According to the terms of the acquisition, Owlchemy Labs will continue to release VR games while Google will provide additional support to the company. Owlchemy Labs had already assured fans that it would keep continuing its focus on high quality user experiences and hand interaction. The company is popular for developing games that mimic the use of real hands. Meanwhile, Google recently launched a fully wireless day dreamer view headset that is compatible with Google's recently launched Pixel and Pixel XL smartphones. According to highly placed officials at Google, with this acquisition, Google and Owlchemy Labs will be working together to create immersive games and will be developing new interaction models to continue to bring the best VR experiences to life.
Future Market Insights' latest report identified following factors that are driving the adoption of augmented reality and virtual reality worldwide.
Gaming continues to be an attractive segment for AR & VR technology. In recent years, several games have been launched based on augmented reality. 'Pokemon Go' is one of the biggest examples of AR-based games, which received massive popularity across the globe after its launch.
The young population is lured toward products that come with AR and VR features. Over the years, the average spending on electronic goods for entertainment has increased significantly. Moreover, robust penetration of smartphones and improving network connectivity is encouraging tech companies to add AR & VR features in their digital products.
Evolution of cell phones from a normal calling device to a smart gadget is facilitating innumerable opportunities for technologies such augmented reality and virtual reality.
Technology companies making heavier investments to further simplify AR and VR technology and also add more feature to them. This, in turn, is prompting the adoption of such technologies in various industrial verticals as well.
Buy Now Report Here@ https://www.futuremarketinsights.com/checkout/3913
Key Segments Covered in the Augmented Reality and Virtual Reality Market are :
By Technology Type
Augmented Reality
Virtual Reality
By End-user Type
By application
Gaming
Media & Entertainment
Real Estate
Education
Retail
Healthcare
Engineering
Others
By Device
Head Mounted Display
Handheld Devices
Head-up display
Smartglasses
Others
By Component
Hardware

Display
Processor
Sensors
User interface ICs
Power Management ICs
Others

Software
Services