Ascending popularity of on-the-go packaged beverages is promising an upward growth outlook of the grab and go bottles market. A new market research study projects that global sales of grab and go bottles will exhibit a healthy 5% CAGR during the forecast period of 2019 – 2029.
Consumers are demanding more specialized grab and go beverages with a combined range of qualities, right from taste to health and other functional benefits such as hydration and nutrition. This remains a significant factor accelerating growth of the grab and go bottles market.
Key Takeaways – Grab and Go Bottles Market Study
Plastic has made a big headway in manufacturing grab and go bottles.
High-capacity grab and go bottles are highly preferred by consumers. However, grab and go bottles with capacity up to 250 ml will gain enormous popularity in the near future owing to growing preference for small packaged bottles, particularly in developing economies.
Bottle sales in non-alcoholic beverages sector will attain the value expansion of around 1.7X by the end of forecast period.
Manufacturers are emphasizing sturdiness of bottles without compromising on their economical design. This ensures the quality of product throughout the supply chain.
European market for grab and go bottles will maintain lead throughout the forecast period, majorly attributing to growing consumption rate of energy drinks and flavored alcoholic beverages.
Impulse purchase behavior of on-the-go consumers is positioning grab and go beverages 'front at store' in grocery shops, convenience stores, and mass merchandisers. Grab and go beverages are rapidly bagging their own space at retail shelves and even hold the potential to replace conventional counterparts in the long run.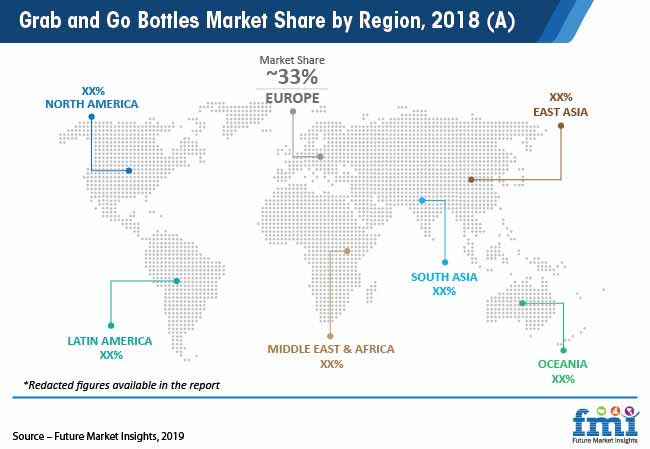 Innovations in Product Design Translating into Customer Base Expansion
In recent years, the global packaging industry has undergone substantial transformations in terms of packaging designs and formats. Amcor Limited launched crystal PET stock bottles and preforms, especially for dairy and aseptic products. The product design is crucial in packaging and will remain the key winning imperative to draw consumers' attention. Channelizing efforts to design innovation of grab and go bottles will thus be profitable for grab and go bottle manufacturers.
About Grab and Go Bottles Market Report
Future Market Insights, in its new offering, offers an unbiased analysis of the global grab and go bottles market, analysing historical demand from 2014 – 2018 and forecast statistics for 2019 – 2029. The study unravels growth projections on the grab and go bottles market on the basis of material (plastic and glass), capacity (up to 250 ml, 251 – 500 ml, 501 – 1,000 ml, and above 1,000 ml), and end use (food, beverages, cosmetics & personal care, and others), across seven major regions.
Explore FMI's Extensive Coverage on the Packaging Domain
Metallized PET Cartons Market–
2021 Analysis and Review: Metallized PET Cartons Market by Material Type – Polyethylene Terephthalate (PET), Aluminium, and Paperboard for 2021 – 2031
Textile Transfer Paper Market–
2021 Analysis and Review: Textile Transfer Paper Market by Thickness (GSM) – Below 60 GSM, 60 – 90 GSM, and Above 90 GSM for 2021 – 2031
2021 Analysis and Review: Molded Wood Pallets Market by Size – Quarter Size Pallet, Half Size Pallet, Full Size Pallet for 2021-2031