The plant-based protein market size is expected to reach US$ 18,191 Mn by the end of 2030. According to a study by Future Market Insights (FMI), titled "Plant-Based Protein Market. Global Industry Analysis 2015-2019 and Opportunity Assessment 2020 – 2030," the market is expected to expand at a CAGR of 6.0% over the forecast period (2015–2030). According to the report, increasing incidence of health issues such as diabetes, blood pressure, and obesity is encouraging consumers to opt for healthy lifestyle. Therefore, they are more demand for dietary supplements and functional foods that contain plant-based proteins.
For more insights into the market, request a sample of this report@ https://www.futuremarketinsights.com/reports/sample/rep-gb-11442
It includes in-depth insights into the plant-based protein market. Some of these are:
The global plant-based protein market is anticipated to expand at a CAGR 6.0% to account for US$ 18,191 Mn by 2030 end as per the likely scenario.
Consumer spending on the healthy lifestyle considered in North America in different zones may vary with the course of time, thus the North America plant-based protein market might show a traditional scenario by expanding at a CAGR of 4.2% to account for US$ 3,926 Mn by 2020 end.
Demand for organic plant-based protein is rising among the consumers in around the world wide. Organic plant-based protein is stated as healthier multi-beneficial ingredient over to conventional plant-based protein. Hence, organic plant based protein shows high growth rate compare to conventional plant-based protein.
The plant-based protein has become a recognized replacement for multiple proteins used in dietary supplements such as whey protein, meat proteins, egg protein, and others. This is due to increasing vegan trend, etc. hence it reflect the high market growth rate of plant-based protein over the coming years.
Among products available in the market, the protein flour segment is likely to remain dominant through the course of the forecast period.
"Plant-based protein contains a number of health benefits. For instance; soy protein contains lower amounts of saturated fat and cholesterol than meat products. Soy protein is actually a "complete protein," since it provides amino acids essential to human nutrition,  helps to reduce LDL cholesterol and promotes a healthy heart health. Therefore, the demand for plant-based protein is likely to rise considerable compared to animal based protein" as per a lead FMI analyst.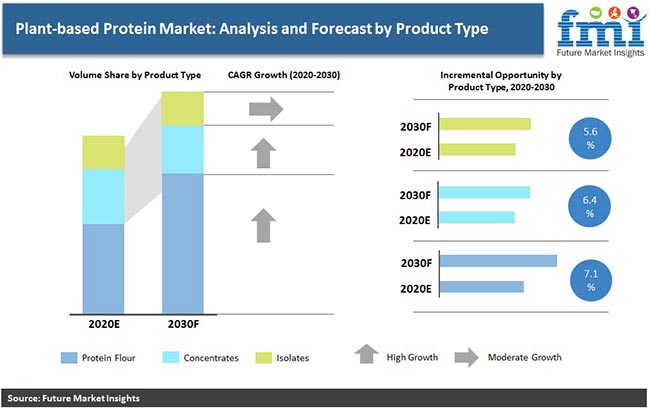 Demand for Preventative Healthcare, Especially Due to Recent Outbreak of Deadly Viruses to boost growth
Majority of the population is health conscious and aware of the benefits of preventive healthcare. Various magazines and online forums such as Livestrong.com, bodybuilding.com, Men's Health magazines, and Shape magazine, offer diet and lifestyle information, and provide regular updates in this regard. Similarly, manufacturers of natural ingredient-based protein are promoting various products using various channels such online portals, magazines, and marketing campaigns to improve demand for plant-protein enriched products. These strategies of players primarily focus on new products development and enhanced safety, effectiveness and primarily health benefits such as the ability to lower cholesterol, lower body weight, and lower blood pressure levels. This is expected to aid in market growth in the region.
Also consumers have become increasingly conscious about the food they eat. Rumors linking coronavirus with consumption of meat and meat protein are likely to influence their perception regarding food they eat. As a result of this, the demand for plant-based protein is likely to surge in the coming years.
Who is winning?
Some of the major players in the plant-based protein that are covered in this report are Glanbia Plc, Archer-Daniels Midland Co., Roquette Freres, Cargill Incorporation, Burcon Nutrascience Corporat, E.I. du Pont de Nemours & Co,  Cosucra Groupe Warcoing, Ingredion Inc, and CHS Inc, AGT Food & Ingredients, Inc.
These market players have a strong networked and secure clientele with main focus on increasing its product offering and portfolio with complete solutions to its customers including production, formulation of blend, packaging and transportation as well.
In addition to this, market players are more into mergers and acquisition to improve their product offering. Companies intend to expand their regional footprint through strategic collaborations.
In February 2017, Glambia Plc acquired two companies — Body & Fit and Grass Advantage LLC protein ingredient manufacturers in the U.S. and Netherlands respectively. Both the company have a strong tactical fit with Glanbia's Performance Nutrition (GPN) division and will prolong its reach to wider channels and new consumers.
 In August 2017, Archer Daniels Midland Company expanded its line of plant-based functional extracts by including an antioxidant blend, green tea, and acerola for application in a wide variety of food, drinks, and supplement applications
In March 2017, Cargill started production of pea protein ingredients through partnership with World Food Processing, which is a multi-generation, family-owned business based in Oskaloosa, U.S., that has developed non-bioengineered/non-GMO pea seed varieties to minimize off-flavors
 Get Valuable Insights into Plant-based protein
Future Market Insights, in its new report, presents an unbiased analysis of the global plant-based protein market, covering historical demand data and forecast figures for the period between 2020 and 2030. The study divulges compelling insights into growth witnessed in the market. On the basis of nature, the plant-based protein market is segmented into organic and conventional. On the basis of form, the plant-based protein market is segmented into isolates, concentrates and hydrolysates. On the basis of product type, the scope for plant-based protein market includes soy protein, wheat protein, pea protein and other protein. On the basis of application, the scope for plant-based protein market includes nutritional products under which it sub segmented as (sports nutrition, medical nutrition, infant nutrition,) bakery, snacks & cereals, dairy, confectionary & desserts, convenience food, beverages, animal feed and others.
About the Food & Beverage Division at Future Market Insights
Expert analysis, actionable insights, and strategic recommendations – the food & beverage team at Future Market Insights helps clients from across the globe with their unique business intelligence needs. With a repertoire of over 1,000 reports and 1 million+ data points, the team has analyzed the food & beverage industry lucidly in 50+ countries for over a decade. The team provides end-to-end research and consulting services; reach out to explore how we can help.
For Information On The Research Approach Used In The Report, Ask Analyst @ https://www.futuremarketinsights.com/ask-question/rep-gb-11442
PLANT-BASED PROTEIN MARKET TAXONOMY
The global Plant-based protein Market is segmented in detail to cover every aspect of the market and present complete market intelligence to readers.
Product Type
Soy Protein
Wheat Protein
Pea Protein
Others
Form
Isolates
Concentrates
Hydrolysates
Nature
Application
Nutritional Products

Sports Nutrition
Medical Nutrition
Infant Nutrition

Bakery
Snacks & Cereals
Dairy
Confectionary and Dessert
Convenience Food
Beverages
Animal Feed
Others
Region
North America
Latin America
Europe
East Asia
South Asia
Oceania
MEA