Mobility as a service (MaaS) uses multiple modes of transport, from cycling and public transit to automobiles and planes. Vehicle management responsibilities to include other modes of transport can be improved with MaaS. MaaS enables the coordination and tracking of large amounts of data, including schedules, transactions, trips, and employee mobility budgets. To save time and avoid traffic jams, companies that are part of the mobility as a service movement offer incentives every month for riding a bike to work instead of driving a vehicle. Instead of letting vehicles sit idle in a parking lot, companies put them to use in ride-sharing or car sharing programs for other employees, which helps in expanding their mobility.
The global connected logistics market is projected to exhibit a healthy CAGR of 11% during the forecast period (2019-2029).
Key Takeaways of Connected Logistics Market Study
The retail and consumer goods segment is expected to hold significant market share among all the segments by vertical during the forecast period, owing to ease of access provided by e-Commerce platforms to consumers for ordering products online.
Among all the components, the devices segment is expected to experience a notable CAGR, as the adoption of RFID and vehicle telematics is increasing.
South Asia & Pacific is estimated to progress at a higher CAGR in the global connected logistics market, as logistic organizations in countries such as India are adopting new technologies to provide better solutions that help organizations save time and reduce costs.
Request a report sample to gain comprehensive market insights @ https://www.futuremarketinsights.com/reports/sample/rep-gb-4287
"Key players in the connected logistics market can gain significant profits by providing connected logistics with blockchain technology, as transparency and security achieved by blockchain helps track information regarding orders, receipts, invoices, payments, and digital assets such as copyrights, certifications, and barcodes."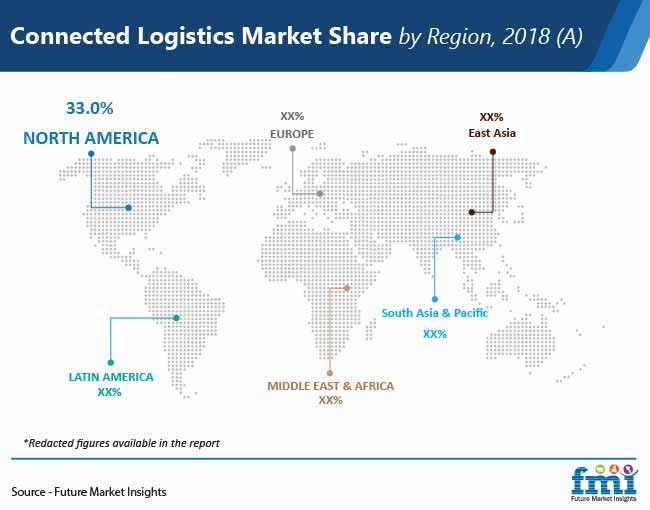 Significant Demand for Data-driven Logistics to Boost Growth
Increasing use of predictive analytics is helping logistic operators that are using historical data and real-time patterns to make predictions so as to decrease costs, improve customer satisfaction, and increase reliability. Predictive analytics uses algorithms to track historical data to anticipate demand, avoid risks, and adjust schedules to enable logistic managers create proactive solutions. Logistic firms are using predictive analysis to understand the likelihood of shipment statuses by using simulation models. The demand for data driven logistics is increasing, as logistic companies can achieve efficiency and gain competitive advantage by using predictive tools to prevent losses associated with inaccurate stocking and mismanagement of deliveries and schedule.
For Information On The Research Approach Used In The Report, Ask Analyst @ https://www.futuremarketinsights.com/ask-question/rep-gb-4287
The logistics industry generates huge amounts of data, and companies gather and store this data for analysis purposes. To analyze this gathered data, big data analytics is used, which, in turn, uses advanced analytic techniques to extract valuable information from huge amounts of data, and also facilitates data-driven decision-making. By using big data analytics, logistic firms can transparently track production, employee, and equipment performance, which will lead to enhanced customer satisfaction through streamlining picking, packing, and shipping, as well as offering access and real-time visibility to order statuses.
More Valuable Insights on Connected Logistics Market
FMI's report on the connected logistics market is segmented into four major sections – component (devices, software, and services), transportation (roadways, railways, airways, and seaways), vertical (manufacturing, IT & telecom, automotive, retail & consumer goods, food & beverages, energy & utilities, healthcare, and others), and region (North America, Latin America, Europe, East Asia, South Asia & Pacific, and the Middle East & Africa). This has been done to help readers understand the lucrative opportunities in the global connected logistics market.
About Technology Division at Future Market Insights
The technology team at Future Market Insights offers expert analysis, time efficient research, and strategic recommendations with an objective to provide authentic insights and accurate results to help clients worldwide. With a repertoire of over 100+ reports and 1 million+ data points, the team has been analyzing the industry lucidly in 50+ countries for over a decade. The team provides a brief analysis on key trends including competitive landscape, profit margin, and research development efforts.