Over the last several years, imaging systems for security applications have grown significantly. Large, high-cost, and inefficient cameras mostly used for specific military and government applications have been replaced by compact, low-cost, low-power smart camera systems, becoming available not only for military and government purposes, but also for expanding civilian security applications.
The global CMOS camera market is anticipated to exhibit a CAGR of 10% during the forecast period of 2019-2029. The impact of the ongoing COVID-19 pandemic on the market growth would be minimal, yet labor scarcity at manufacturing units is likely to be bottlenecked. While the effect of the virus is minor on various industry-adjacent sectors, such as the video surveillance industry, possible rise in caseloads of COVID-19 will adversely affect the CMOS camera market. Further, restrictions in transportation and logistics, both, locally and internationally, due to the pandemic, are expected to hit the profit margins of CMOS camera manufacturers.
Request a report sample to gain comprehensive market insights @ https://www.futuremarketinsights.com/reports/sample/rep-gb-11274
"The unique features of CMOS digital cameras find use in various applications, including network teleconferencing, videophones, guidance and navigation, automotive imaging systems, robotic and machine vision, and security & surveillance. Such security systems are equipped with several video cameras, communication devices, and computer software or certain kind of digital signal processors (DSPs) for real-time video analysis."
Key Takeaways of CMOS Camera Market Study
North America is expected to hold a significant share in the global CMOS camera market during the forecast period.
Low-light CMOS cameras are likely to capture a leading share in the global CMOS camera market among all camera types, as these cameras are widely used for video detection and monitoring systems.
By pixel density (megapixels), less than 5MP is anticipated to retain its significant share in the global CMOS camera market over the coming decade, as this pixel density has high growth opportunities in the automotive industry.
The consumer electronics industry is witnessing top-line growth all over the world. However, security & surveillance is estimated to continue to hold significant market share in the global CMOS camera market during the forecast period.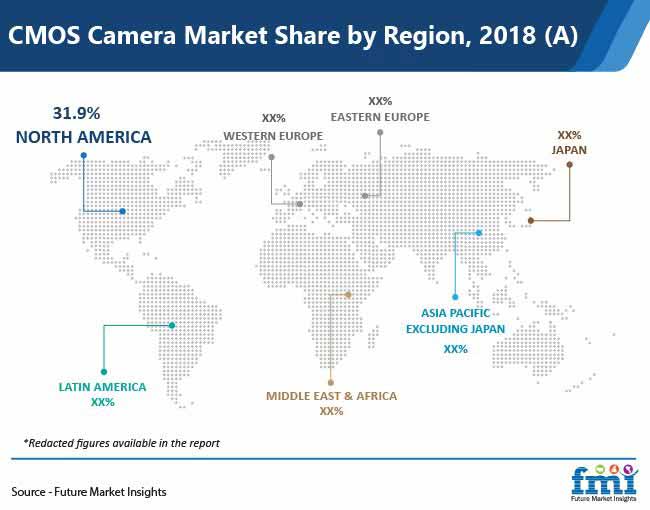 Increasing Demand for Machine Vision to Propel Sales
Growth in machine vision adoption, with the convergence of advanced imaging analysis, robotics, and machine learning, is leading to new creative and never-before-seen solutions for industrial vision applications. Machine vision cameras will remain critical to the development of next-level solutions in a variety of growing global markets. Moreover, CMOS cameras have taken over a majority of the machine vision market. CMOS chips yield higher quantum efficiency, and are expected to drive the growth of the global CMOS camera market, as they are used for near infrared (NIR), scientific, and life science applications.
For Information On The Research Approach Used In The Report, Ask Analyst @ https://www.futuremarketinsights.com/ask-question/rep-gb-11274
More Valuable Insights on CMOS Camera Market
Future Market Insights offers an unbiased analysis of the global CMOS camera market, providing historical data of 2014-2018 and forecast statistics for 2019-2029. To understand the opportunities in the CMOS camera market, the market is segmented on the basis of camera type, professional services, pixel density (megapixels), and application, across seven major regions.
About Technology Division at Future Market Insights
The technology team at Future Market Insights offers expert analysis, time efficient research, and strategic recommendations with an objective to provide authentic insights and accurate results to help clients worldwide. With a repertoire of over 100+ reports and 1 million+ data points, the team has been analyzing the industry lucidly in 50+ countries for over a decade. The team provides a brief analysis on key trends including competitive landscape, profit margin, and research development efforts.