The adoption of cloud-based electronic lab notebook (ELN) services is increasing in industries such as healthcare, research, and pharmaceuticals for data accuracy, portability, and security. They help improve collaboration in an organization, allowing data and workflow access from anywhere via an Internet connection. Cloud ELNs help organizations save time and cost, facilitate the homogeneity of data and high-quality standards, and improve scalability and connectivity. Cloud-based ELNs provide better data management and help organizations manage their collaborations effectively. Cloud-based ELNs are offered as SaaS on a subscription model that allows the end user to access data by any device from anywhere for service portability. Data on cloud-based ELNs can be encrypted by the user's signature or password for data security.
The coronavirus (COVID-19) pandemic is affecting the global economic order at almost all levels, and the cloud ELN service market will not remain immune to it. Based on initial indicators of Q1, FMI anticipates a substantial drop in spending during the first half of 2020, as the crisis echoes across every sector of the economy. Amidst the COVID-19 pandemic, following social distancing and remote working (work from home) is becoming a confounding challenge for several companies, especially in the sphere of lab research and clinical trials. In order to address the demanding situation, key players are offering cloud ELN services to propel research or diagnostics of COVID-19 to curb its spread.
The global cloud ELN service market is expected to witness a CAGR of 13% during the forecast period (2019-2029).
Request a report sample to gain comprehensive market insights @ https://www.futuremarketinsights.com/reports/sample/rep-gb-1984
"Key players in the market can gain significant profits by integrating cloud ELNs with smart devices, as smart devices provide physical support to visualize and record data, as well as can be used as a substitute for equipment such as timers, chronometers, alarms, calculators, and reminders."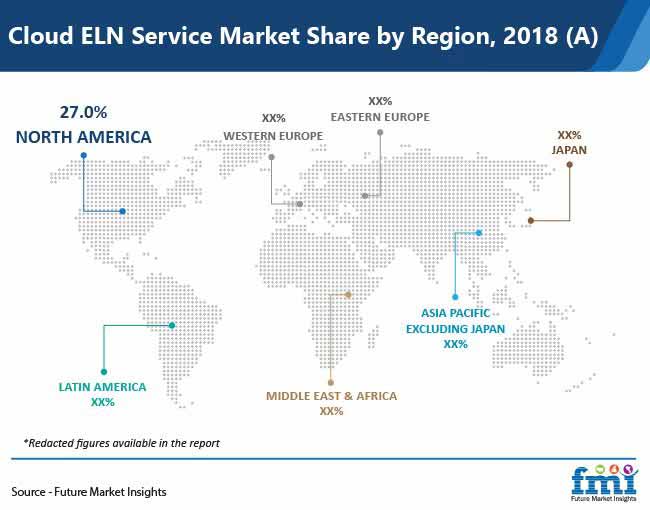 Adoption of Cloud-based ELNs in Food & Beverage Industry
Key Takeaways of Cloud ELN Service Market Study
The academic and scientific research industry is expected to register a higher CAGR among all segments by industry during the forecast period, as by using cloud ELNs, scientists can easily access their documents and collaborate with their colleagues.
Among the components, the software segment is projected to hold significant market share, owing to increasing adoption of cloud ELN services across various industries.
The market in Asia Pacific excluding Japan (APEJ) is estimated to grow at a higher CAGR in the global cloud ELN service market, due to increasing awareness of laboratory solutions. Moreover, increasing number of clinical trials in emerging economies such as India, China, and Singapore is also expected to drive the growth of the cloud ELN service market in APEJ.
For Information On The Research Approach Used In The Report, Ask Analyst @ https://www.futuremarketinsights.com/ask-question/rep-gb-1984
Cloud ELN services help develop high-quality products faster and cost-effectively in the food & beverage industry. ELNs enable food and beverage scientists to document their data and analyse it to make reports. They are useful for tracking previous experiments anywhere in an organization, which helps gain time in creating new formulations or ingredients. Researchers can share their data with others so as to compare recipes and identify new opportunities. Cloud-based ELNs include electronic signatures, traceability, and version control to indicate approved formulations and ingredients for a specific experiment, which helps ensure compliance with global and local regulations.
More Valuable Insights on Cloud ELN Service Market
FMI's report on the cloud ELN service  market is segmented into four major sections – component (software and services), deployment (public cloud and private cloud), enterprise size (SMEs and large enterprise), industry (healthcare & life science, energy, food & beverages, academic and scientific research, petrochemicals, mining and metal, and others), across major regions such as North America, Latin America, Western Europe, Eastern Europe, Asia Pacific excluding Japan, Japan Middle East & Africa, and GCC Countries, to help readers understand and evaluate lucrative opportunities in the global cloud ELN service  market.
About Technology Division at Future Market Insights
The technology team at Future Market Insights offers expert analysis, time efficient research, and strategic recommendations with an objective to provide authentic insights and accurate results to help clients worldwide. With a repertoire of over 100+ reports and 1 million+ data points, the team has been analyzing the industry lucidly in 50+ countries for over a decade. The team provides a brief analysis on key trends including competitive landscape, profit margin, and research development efforts.