Sustainability-centered initiatives surrounding innovation and the need for development of alternative sources of propulsion in the automotive industry have put pressure on the capital performance of automotive load floor market over the recent past. Raw materials such as polypropylene (PP) and composites help reduce the overall weight of automobiles by almost a third, keeping rigidity and durability intact, and this potential makes them a top priority for market players.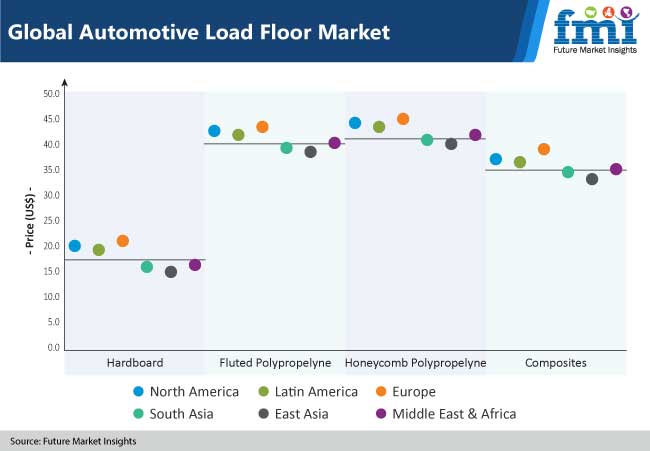 Evolving market dynamics and stiffening competition are compelling automotive load floor manufacturers to turn to patented technologies. As such experiments gather pace, end users expect a greater of performance and customization. So, market players must create distinctive strategies to integrate technology into their operations to capture the value at stake.
Future Market Insights, in its latest report, projects that the global market for automotive load floors is poised to register revenues worth of US$ 3.2 Bn by 2030.
Download the sample copy of Report with table of contents and Figures @ https://www.futuremarketinsights.com/reports/sample/rep-gb-7658
Key Takeaways of Automotive Load Floor Market
Polyurethane (PU) or polypropylene (PP) based honeycomb technology to reduce overall vehicle weight by 20-30%
Fixed automotive load floors will remain most worthwhile and are expected to procure around 77% of the market revenue through 2030
Stringent emission norms across the globe to propel adoption of automotive load floors
Market in South Asia & Pacific to experience meteoric growth over the following decade
Booming uptake of electric vehicles (EV) to offer potential growth avenues in near term
COVID-19 Impact on Automotive Load Floor Market
The global automotive load floor market continues to face the brunt of the coronavirus (COVID-19) pandemic as sales of vehicles have slumped due to factory closures, collapse in demand, and supply chain disturbances. As market players enter into the latter half of 2020, there are some varying signs of recovery visible, as well as of further disruptions ahead.
Uncertainties prevail, with epidemiological numbers soaring in various countries of South America and Asia, and, most worrying, in the US. Even though China was showing positive signs of a probable V-shaped rebound, June sales dipped considerable, implying a see-saw battle ahead. The US industry also, despite coming up with some favorable figures in May, waned last month.
With risks of further virus contagion and preventative lockdowns remaining high over the rest of the year, the global automotive load floor market will remain exposed to economic uncertainties.
Automotive Load Floor Market – Competitive Intelligence
The global automotive load floor market is characterized by presence several domestic and international players, thus, making the market landscape highly fragmented. Leading manufacturers such as DS Smith, Huntsman International LLC, and Nagase America Corporation capture about 20-25% of the overall market value. Organic and inorganic strategies including, mergers & acquisitions (M&A), are likely to govern growth tactics market players.
Manufacturers have been unable to meet high volume requirements due to long production cycles, high raw material costs, and absence of automated manufacturing infrastructure to meet emission norms. To address the situation, established players and OEMs are adopting various strategies to enable vertical integration of value chain.
To Know More About Automotive Load Floor Market:
A new market research report published by Future Market Insights (FMI) on the global automotive load floor market report offers comprehensive insights into the market demand trends and analysis of opportunities during the forecast period. The report assesses the automotive load floor market through four different segments – material type, application, operation, vehicle type, and region. The automotive load floor market report also provides detailed assessment of pricing by different life cycle analysis, key market dynamics, and technologies that are being deployed in the manufacturing of automotive load floors and product adoption across several end-use sectors.
Key Segment
By Material Type
Hardboard
Fluted Polypropylene
Honeycomb Polyprolene
Composites
By Operation
By Application
Interior Systems
Cargo Systems
Load Floor Systems
By Vehicle Type
Compact
Mid-Size
Luxury
SUV
LCV
Mini-Bus
Van
By Region
North America
Latin America
Europe
South Asia & Pacific
East Asia
Middle East & Africa