Future Market Insights (FMI) has forecast the global synthetic leather market to register year-on-year growth of 4.50% in 2021. Sales of synthetic leather are expected to reach US$ 34.1 Bn, surpassing 40,119 KT by the same year.
Synthetic leathers are versatile in terms of application and are used in manufacturing footwear, furnishings, garments, and luxury items. Increasing demand for synthetic leather can be attributed to mounting concerns regarding the environmental impact of natural leather and changing consumer preference towards animal-free and vegan products.
Stringent animal cruelty regulation, growing awareness regarding various attributes of synthetic leather, and increasing price of natural leathers are key factors driving the market throughout the assessment period.
To Get a Sample Copy of the Report visit @  https://www.futuremarketinsights.com/reports/sample/rep-gb-4886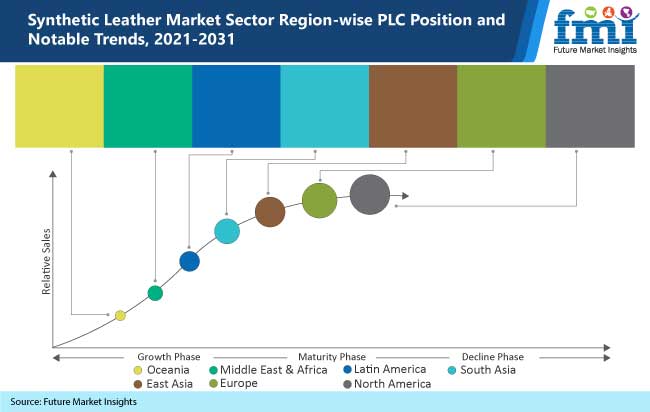 Superior physical and functional properties of synthetic leather over traditional leather and increasing research and development undertaken to discover cost-effective alternatives to natural leather will play a key role in boosting the demand for synthetic leather, says FMI.
The automotive industry is gradually transitioning from natural leather to lightweight synthetic leather interiors. Due to the increasing demand for lightweight automobiles, sales of synthetic leather are expected to grow significantly over the forecast period.
Lightweight vehicles consume less fuel and offer more mileage, thus contributing to reducing carbon dioxide emissions. Research and development have identified a direct correlation between fuel economy and vehicle weight.
This has compelled automotive manufacturers towards reducing the curb weight of the automobile and pushed them to adopt lightweight synthetic leather for the manufacturing of vehicle seats, doors, dashboards, and steering covers.
Thus top original equipment manufacturers are adopting lighter materials in vehicles, spurring the demand for synthetic leather in the automotive industry.
Key Takeaways from FMI's Synthetic Leather Market Study
Increasing demand for vegan and bio-based synthetic leather for bags and sportswear manufacturing along with increasing sales of mobile and laptop protective covers in the U.S. will assist the North American synthetic leather market to grow at 3.70% CAGR through 2031.
Synthetic leather sales in Europe are forecast to increase at 3.60% CAGR during the assessment period, backed by booming fashion and automotive industries in the Western Europe region and growing awareness regarding the negative impact of leather tanning on the environment among the population.
India will offer significant growth opportunities in the synthetic leather market due to increasing sales of designer footwear and stringent government regulations towards the processing of natural leather.
Argentina is forecast to lead the synthetic leather market in Latin America owing to the high demand for calfskin leather alternatives, increasing export of leather products, and strong economic growth in the country.
Japan will hold around 11% of the global market share in 2021. Sales uptick can be attributed to increased production and export of synthetic leather from the country.
Competitive Landscape
According to FMI, the global synthetic leather market is fairly consolidated, in which leading players account for two-fifth of the market value share as of 2021.  The emergence of new start-ups and regional players is expected to make the market highly competitive in upcoming years.
Top market players are adopting organic growth strategies such as the introduction of new and advanced materials to strengthen their position in this evolving market. For instance, in September 2020, Gordini launched "Clutch™ Synthetic Leather" which is an excellent alternative to natural leather and is claimed to outperform traditional leather.
Natural Fiber Welding Inc. introduced its first 100% plant-based leather called "Mirum" in Bio-Based Summit 2021. This synthetic leather is made from recycled cotton, hemp, natural rubber, cork, and vegetable oil. This leads to reducing carbon impact by 40% and 17X less carbon emission than plastic-based synthetic leather.
Manufacturers are forming strategic partnerships and collaborations to gain market advantage and survive in this highly competitive market. For instance, in 2021, Natural Fiber Welding Inc. (NSFW) joined hands with San Francisco-based footwear brand Allbirds for developing bio-based synthetic leather and reducing its prices.
Allbirds invested around US$ 2 Mn in NFW to boost the production of plant-based leather and eradicate fossil fuel-based materials from the fashion industry.
Prominent players operating in the synthetic leather market are:-
Kolon Industries Inc.
Mayur Uniquoters Ltd.
Gruppo Mastrotto S.p.A.
Alfatex.
Achilles Corp.
Teijin Limited
Nan Ya Plastics Corporation
Asahi Kasei Corporation
Toray Group Kuraray Co., Ltd.
Daewon Chemical Co Ltd.
Leather Resource Of America Inc.
Comfort Int'l Co., Ltd
Sheng Hung Industrial Co. Ltd.
Plastics Elche S.A
 More Insights on the Global Synthetic Leather Market
In its latest report, FMI offers an unbiased analysis of the global Synthetic Leather market, providing historical data for the period of 2017-2027 and forecast statistics for the period of 2021-2031. In order to understand the global market potential, its growth, and scope, the market is segmented on the basis of material type (polyvinyl chloride, polyurethane, and bio-based), application type (footwear, furnishing, automotive, clothing, bags, sports, and electronics) and across seven major regions (North America, Latin America, Eastern Europe, Western Europe, Asia Pacific excluding Japan, Japan, and the Middle East and Africa).
Key Segments Covered in Synthetic leather Market Study:
By Material Types:
Polyvinyl Chloride
Polyurethane
Bio-Based
 By Application:
Footwear
Furnishing
Automotive

Seat
Door
Dash
Steering Cover
Others

Clothing
Bags
Sports
Electronics
By Regions :
North America
Latin America
Western Europe
Eastern Europe
Asia Pacific excluding Japan
Japan
Middle East & Africa