Consumers are increasingly inclining towards healthy and nutrient-rich food items to stay fit and stave off the risk of various diseases. Future Market Insights (FMI), in a new study finds this to be one of the chief drivers of the edible nuts market, which is forecast to surpass US$ 20.28 Bn by 2021. Growth will therefore be driven by consumers selecting snacks that are high in nutritive values.
Among different types of edible nuts, whole nuts are most famous due to their application in confectionery, bakery products, and other desserts. Edible nuts are also multi-nutritional ingredients consumed widely as snacks by consumers going to the gym and focused on body building. These factors are contributing to the rising number of food dishes made with edible nuts as an ingredient in the food service industry.
Digitalization has enabled rapid growth across diverse industries. With the rising usage of the internet besides the easiness of online transactions, many edible nuts manufacturers are choosing online platform for the promotion and selling of their products. Moreover, the majority of consumers prefer buying from online channels, which is encouraging manufacturers to mark their presence on these platforms. Other platforms have also emerged over recent periods like specialty stores and food service platforms.
Key Takeaways from the Edible Nuts Market Study
Exhibiting Y-o-Y growth at nearly 6.9% in 2021, the edible nuts market will continue exhibiting strong growth through the forecast period
The U.S. has emerged as a key pocket for sales, accounting for over 88% of the North America market based on value in 2021
The demand from the U.K. will continue rising at a high pace. The U.K. is expected to register 10.8% Y-o-Y growth in 2021
Germany and France will remain other key markets for sale of edible nuts in the Europe
Japan and South Korea will emerge as bright spots for sale in East Asia
"Companies operating in the edible nuts market have been focusing on launching price competitive products to gain edge over rivals. Besides this, their consistent effort towards expanding product lines and regional footprint will remain key market drivers through the course of the report's forecast period," said a lead analyst at FMI.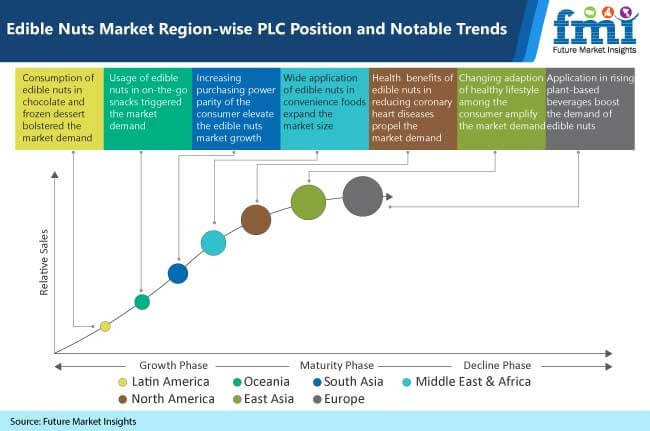 Who is winning?
Several leading manufacturers are concentrating on providing edible nuts at an optimum price, owing to their increasing demand among consumers. Different companies have implemented integrated production approach to delivering cost-effective products in the market to escalate their industry footprints and to upsurge their production capacity. Prominent players of edible nuts are endowing in research and development to produce organic, non-GMO products from edible nuts.
Various hotel chains and restaurants are also partnering directly with growers of edible nuts for sourcing of high-quality edible nuts to be used in their dishes.
A few of the leading players operating in the edible nuts market Sun-Maid Growers of California, Hines Nut Company, John B. Sanfilippo & Son, are Archer Daniels Midland Company, Mariani Nut Company, Select Harvests Limited, Olam International Ltd, Durak Findik, Grower Direct Nut Co. Ltd, Borges Agricultural & Industrial Nuts, The Wonderful Company LLC, Germack Pistachio Company, Diamond Foods, Inc., Blue Diamond Growers, Nichols Farms, Keenan Farms and other players.
For Information On The Research Approach Used In The Report, Ask Analyst @ https://www.futuremarketinsights.com/ask-question/rep-gb-1530
Get Valuable Insights into Edible Nuts Market
Future Market Insights, in its new offering, provides an unbiased analysis of the edible nuts Market, presenting historical demand data (2016-2020) and forecast statistics for the period from 2021-2031. The study divulges compelling insights on the edible nuts market based on Variety (Almond, Cashewnuts, Hazelnuts, Peanuts, Pistachios, Walnuts, Other (Brazil Nuts)), Nature (Organic, Conventional), Product Type (Raw, Roasted, Salted, Others (Glazed, etc), Form (Whole, Powder, Splits), End Use (Food Service Industry, Household), and Distribution Channel (Hypermarket/Supermarket, Specialty Stores, Wholesale Stores, Mass Grocery Stores, Online Retail) across seven major regions.
About Food Market Division at FMI
Expert analysis, actionable insights, and strategic recommendations – the food & beverage team at Future Market Insights helps clients from across the globe with their unique business intelligence needs. With a repertoire of over 1,000 reports and 1 million+ data points, the team has analysed the food & beverage industry lucidly in 50+ countries for over a decade. The team provides end-to-end research and consulting services; reach out to explore how we can help.